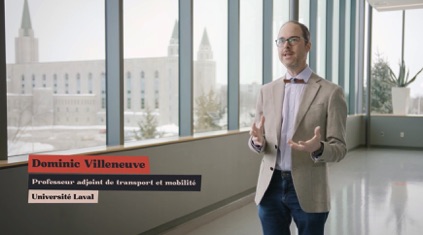 I grew up in a village called Notre-Dame des Laurentides in the mountains a few kilometers north of Quebec City. I've always been interested in computers and my first job was as a computer technician in the parish. At the age of 13 I discovered community engagement through Royal Air Cadets and since that time I have been offering my time as a volunteer.
I studied computer science at the Cégep de Sainte-Foy which culminated in the publication of a book on computer security written with three college friends that awardee us a scholarship from the Quebec City Regional Association for Computer Security. During my college technical training, I did an internship in a stainless steel factory and while I was offered a job at the factory, I decided to pack up and accept a position as a French monitor in a small town 2 000 km north of Vancouver in order to immerse myself in the Anglo-Canadian culture and improve my knowledge of English. This incredible year in the forest town of Terrace, British Columbia has been a wonderful experience and I came out of it bilingual.
Upon my return to Quebec City, while my friends from computer science had jobs in the area, I remained on unemployment insurance for several months, trying unsuccessfully to get a job during the economic crisis. That's when I got the idea to try my luck in the Toronto area where, in the space of a week, I got a job at Microsoft Canada as a technical support technician for Visual Basic and Microsoft Access.
I then had the chance to work several positions at Microsoft, from production lead at Microsoft Network to program manager. I am particularly proud of my contribution to launch the first localized version of Hotmail in French Canada. During this successful 12-year career at Microsoft, I had the pleasure of working with fantastic colleagues, making numerous trips abroad and to test several new products for the Canadian market.
But in my spare time, I continued to get involved at the community level, becoming French-English interpreter for the Toronto International Film Festival and getting involved with my local city councillor in the fight to preserve and improve my neighbourhood. That is how I discovered politics and through electoral victories for my candidates I developed a taste for it.
In 2008, I decided to quit my job and return to school to undertake university studies. I completed a Joint Honours Baccalaureate in Social Science - Public Administration and Political Science from 2008 to 2011 and since then, I began a Master of Arts in Public Administration at the University of Ottawa which I completed by defending my thesis on August 26 2013.
Although the full-time studies require a lot of time and energy, I continue my community involvement. The winter of 2012, I became a member of the Canadian Ski Patrol and I offered my services as a volunteer patroller, providing first aid to injured skiers and snowboarders on the hill. I even had the honour of being awarded the male recruit of the year award by the Edelweiss Ski Patrol.
But having "fallen" into research a bit like Obélix, who always asks for more, I decided to continue my studies by proposing doctoral research which was funded by SSHRC. Accepted in the famous Urban sociology lab of Professor Vincent Kaufmann at the École polytechnique fédérale de Lausanne, this doctorate was the start of a long stay in Europe. After the cultural shock, Switzerland and I adopted each other and I spent 5 wonderful years in the Vaud capital, combining research and study time at LaSUR and skiing in the nearby Valais and French Alps (I realize I am quite lucky). After defending my doctoral thesis before an international jury (Professor Anthony Perl, political scientist and professor of urban studies in Vancouver, Professor Karen Lucas of the Chair in transport and social analysis in Leeds in England and Doctor Monika Ruzicka-Rossier of Switzerland, I went to Bavaria to do an internship as postdoc coordinator of the mobil.LAB doctoral research group in Munich. My work within this group of 13 doctoral students from multiple disciplinary backgrounds all related to Sustainable mobility in the metropolitan region has been very formative both from a scientific and human point of view.
But the remoteness of friends and family, mainly in Canada and largely in the National Capital Region was felt and fortunately for me this position at ÉSAD seemed to me like an opportunity to return to the fold , while joining a fantastic multidisciplinary team of researchers. So that's my brief little story. I look forward to writing the next chapters at the Graduate School of Regional Planning and Development.